Due to hazardous road conditions, Zeigler-Royalton CUSD 188 will utilize a Remote Learning Day on Thursday (2/11/21). A reminder that today's meal delivery also included meals for tomorrow so there will not be delivery tomorrow.  We will resume meal delivery on Friday.

Breakfast and lunch delivery will be a little later than normal today. We will begin at approximately 10:00 AM. Have a great day and stay safe!

Due to hazardous road conditions, Zeigler-Royalton CUSD 188 will utilize a Remote Learning Day on Wednesday (2/10/21). Breakfast and lunch delivery will occur throughout the morning.

Breakfast and lunch delivery will begin at approximately 8:30 AM. Please be on the lookout for a ZR CUSD school bus/van. We hope everyone has a safe and warm day!

Due to hazardous road conditions, Zeigler-Royalton CUSD 188 will utilize a Remote Learning Day on Tuesday (2/9/21). Breakfast and lunch delivery will occurr throughout the morning.
Jr High Boys Basketball team roster. All winter athletic games will be streamed and can be found by logging on to zr188.org website. Select menu, live stream links & the home school.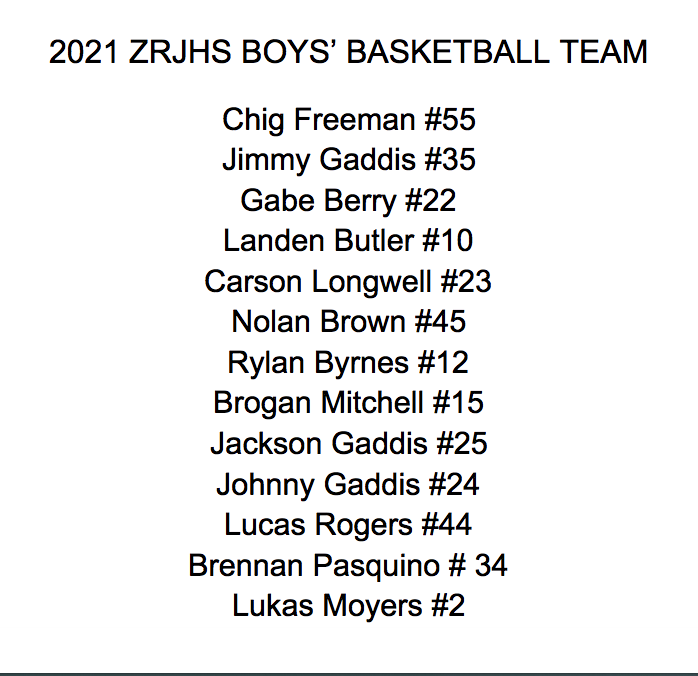 Just wanted to touch base and send a reminder that we offer Tornado Time (After-School Academic Support) Tuesday-Thursday from 12:45 PM - 2:00 PM. We strongly encourage everyone to continue checking grades on TeacherEase and staying on top of completing assignments. If you have questions please feel free to contact me. --- Mr. Morgan

2020-2021 ZRHS Scholarship Packets have been sent (emailed) to senior students and parents/guardians. Please encourage students to check their email. If you have any questions please contact Mr. Stevens or Mr. Morgan.

HS Cheer Practice will be Monday Feb. 1st from 3pm to 5pm. Anyone interested in cheering should attend. Must have physical on file in office. Any questions or for more info please email Coach Bate at
sbate@zr188.org
or call/text (618) 218-4740


The Class of 2021 is kicking off their fundraiser today. Find your favorite senior in person or in the online store and order your favorite items. The money will be used for graduation and any other celebrations we are permitted to have. Any money leftover goes directly to the members of the senior class. Items ordered online will NOT be shipped to the buyer. Students will deliver all ordered items. Please send any questions, comments, or concerns to Ms. Eberhart at
leberhart@zr188.org
. The online store link is:
https://store.myfundraisingplace.com/00785d8f-22fa-4d59-af9c-ed23c45758ce
We are getting ready to kick off the Book Fair! 🎉 will only be having a virtual fair this spring.😕It will run from March 1-14. You may start signing up for the e-wallet on February 8th. All details are on line @
https://www.scholastic.com/bf/zeiglerroyaltonelemsch

Fall '20 Driver's Education Students/Parents/Guardians: For those students that did not complete your drive-time in the Fall with Mr. Gaddis, please contact him by email immediately to schedule a time! These drive times are required for course completion.

HS Parents/Guardians, We strongly encourage you to regularly check your child's grades on TeacherEase. We have several students (Full-Remote and In-Person) that have failing grades through the first three weeks as a result of not completing assignments. If you have questions or concerns about grades please reach out to your child's teacher(s). REMINDER: Next Tuesday (1/26/21) starts the beginning of our Tornado Time After-School Tutoring Program. Email Mr. Morgan for details about Tornado Time.
Birth -5yrs: Child Find Screening - Free preschool and Birth to 3 programs are available. Screenings are on February 22, 2021 at Zeigler-Royalton Elementary. Please call 618-453-4271 to schedule an appointment. You must have an appointment with them to attend the screening.

High School Students/Parents/Guardians, Please check your email for details regarding an academic support offering that will begin next week (Tornado Time!). If you have questions regarding Tornado Time or did not receive the email, please email me and I will get you taken care of. --- Mr. Morgan


Reminder: Return to In-Person Instruction is Tuesday (1/19/21) for those students that opted for the in-person learning model (12:45 Dismissal). For the students that opted to stay Full-Remote you will continue on that full remote schedule with the option to return in-person at the conclusion of Quarter 3.
Dental Safari is scheduled to be at the school on the 21st. If your student is needing a dental exam please sign up to see them. DentalSafariForms.com is where you will sign up. All students in Kindergarten, 2nd, 6th and 9th grades are required to have a dental exam on file. This will satisfy that requirement. Thank You

[1] Fall Semester Report Cards are now available on TeacherEase for Parents and Students to view. [2] Please remember to be checking Google Classroom, communicating with teachers, and completing assignments by deadlines. There are many students that have missing assignments from last week. [3] Reminder that In-Person Instruction resumes next Tuesday (1/19/21) for those students that chose that learning mode for the 3rd Quarter. Full-Remote opt-in students will continue with that method and will be eligible to return in-person at conclusion of the 3rd Quarter. Thank You!